Trefoil™ System Dental Implants
---
A Faster Full-Arch Solution
Dr. Quereshy, board-certified oral, maxillofacial, and facial cosmetic surgeon, is the only doctor in the state of Ohio offering the revolutionary Trefoil system for implant placement.
The Trefoil™ system — a fast and efficient procedure that places a permanently fixed prosthesis — may be an excellent long-term solution for you. The Trefoil system is a unique treatment that uses just three dental implants in the lower jaw to support a full arch prosthesis.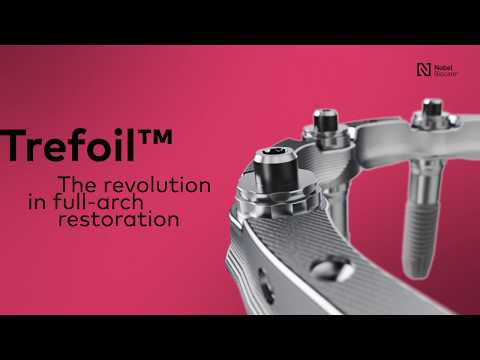 Benefits of Trefoil™
Same-day full-arch restoration
Immediate function
Only three implants
Adjustable for exact fit
Affordability
…and more!
What is Trefoil full-arch restoration?
Recently released by Nobel Biocare, the advanced, cost-effective, and conveniently quick Trefoil system provides a fixed full-arch restoration of the lower jaw in one day. This innovative concept offers same-day rehabilitation. The pre-manufactured prosthetic is in high demand, so its quality is standardized and state-of-the-art, allowing for a precise fit.
Fast Treatment
Rather than requiring weeks or months of wait time, the Trefoil system bypasses temporary teeth and is designed to offer people the possibility of new, life-changing teeth 1-3 days after implant placement.
How does Trefoil system work?
Trefoil provides immediate results. Dr. Quereshy begins with a consultation to assess your jaw and specific needs. Once the evaluation is complete, the process moves quite quickly. During implant surgery, we fit the prefabricated Trefoil framework over three strategically placed implants. This makes the restoration fixed and final. We leave the titanium bar in place throughout the healing process which helps protect the soft tissue, allowing it to remain undisturbed. A notable advantage, the Trefoil framework is adjustable, so we can modify the smallest inaccuracy and ensure optimal comfort.
Renewed Quality of Life
Your new teeth function as soon as they are placed, so you can eat, speak, and smile the same day. Our patients see a notable improvement in their quality of life immediately.
Teeth that Look and Feel Natural
The restoration that we securely fix to the dental implants is designed to look and feel like natural teeth, and our patients who have been treated with the Trefoil system have been highly satisfied with how their new replacement teeth look and function.